The Culture of Carcissism
If alien Lifeforms ever visited North America, they would instantly recognise that the automobile is the predominant species.
One look at our suburban
garage-centric
Domiciles instantly reveals our complete societal capitulation to accomodating the needs of the automobile.
Actually the homo escapeon's relationship with the car works quite well as a metaphor for our typical, modern, suburban, lifespan...
BC (before car)
When you are a child your parent's station wagon might as well have been the Millenium Falcon from Star Wars.
It was a magical, mystery, vehicle that took you to McDonalds and to Grandma's house. It had electric windows for gawdsake!
You're just a kid so you don't understand how it works.
All that you know for certain is that it takes for-frickin-ever for your Parents to drive you somewhere fun like the Beach, but only minutes to get to the Dentist.
Your first vehicle is a little, red, wagon BUT you can't wait to get a tricycle.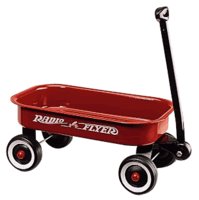 Then you get a tricycle and you need a bicycle.
When you finally get your two wheeler you wonder if the training wheels and pedal blocks will ever come off. When the training wheels get tossed you are old enough to realise that this is it until you get a car.
Kids can't wait to drive a car and recklessly wish-away their youth until the day of reckoning arrives and they finally get behind the wheel.
Finally, You're 16, you get your License, and you head out on the highway lookin' for adventure with a...
FULL TANK OF GAS!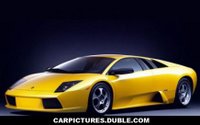 Your body is jacked with hornymones and you want to pass everybody because you're invincible. You blast your stereo with music that you don't even like just to annoy old people.
Even if you are not a member of the 'lucky sperm club' and your Daddy didn't hand you a Lamborghini on your birthday it doesn't f*cking matter if you are driving a beater.
You are totally happening.
When you're cruisin' with a full tank of gas, one hand on the wheel, your eyeballs glued to your cool reflection in the rear view mirror, and your ears bleeding from the 36" woofers mounted in your dashboard, it's all good.
THREE QUARTERS FULL
Pre-Owned Van.
You're late and you're on your way to drop off-wait for and drive home your kids from the maternity ward, nursery, kindergarten, school, soccer, hockey, dance, baseball, emergency ward, birthdays, church, vacations, volleyball, emergency ward, piano, voice, dance, rehearsals, recitals, birthdays, sleepovers. ((gasp))
This goes on for years and you don't even notice that the tank is now...
HALF FULL/HALF EMPTY
New/Newish Van.
You're late and you're on your way to drop off -pick up your kids from junior high, detention?, dance lessons, school, dance lessons, malls, movies, dance lessons, high school, parties, malls, part time jobs, dance lessons, boyfriend's house, malls, girlfriend's house, parties, dance, new boyfriend's house, parties, dance, new girlfriend's house, new boyfriend's pool party, dance, ex's cottage, grad parties, 2 am closing time at some totally awesome club somewhere at the other end of town where they had the best time ever, emergency ward, grads, university, dance lessons, airport, socials, wedding rehearsals, weddings...weddings?!
QUARTER OF A TANK
Where did all of that gas go? Hey wouldn't it be cool to have a red convertible and a MR.T Starter Kit (gold chains) to go with your new hair plugs!
You should slow down a bit because you are runnin' out of gas...nah! You've still got a little in the tank WOOHOO! Vvvvvrrrooo..cough..cough..oooommmm!
WARNING LIGHT FLASHING EMPTY
Giant Land Yacht
You are senile as hell but the authorities will not suspend you because the Government needs the money. You still drive to the Mall every day at 10:30 and again at 2:30. Your inner conversation is something like this...
Holy Dinah that looks like a good parking spot..
no that one...
darn it anyway where is that left turn signal thingy..oh yeah!..
oooh how 'bout this spot...
cripes too small...
((scraaaape Crunch))
What the hell was that...
holy toledo will you look over there..
HEY THAT WAS MY SPOT YOU SONOF A...
Oh Dear better roll up the window
Now where did I put my carkeys
OH there they are in the ignition silly goose...
what the hell does this button do...
((BANG))
Hey it's my lucky day look over there...
it's perfect!..
nope, too damn far from the bloody entrance SON OF A...
Dammit I'll just have to go around again....
EMPTY
You get a battery operated vehicle for about a week until you failed to notice and struck down the 800 pound Apartment Superintendent wearing a fluorescent red moo-moo who was vacuuming the hallway and your hand cramped up at full throttle.
Once again you are back to draggin' a wagon and every day at 10:30 and again at 2:30 you make your way to the Drugstore so that you can natter incessantly at the gum-chomping teenagers who smile and ignore you as they natter incessantly on their cellphones at the checkout line.
In rushes a harried young parent trying to run some errands with three screaming kids in tow and you suddenly realise that you shouldn't have to walk anywhere for the rest of your life because
SOMEBODY owes you a few thousand rides.